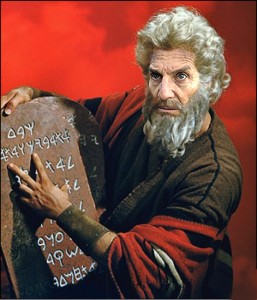 First Commandment: THOU SHALT TAKE MONEY OUT OF POLITICS
No money in politics. Zero! First, people should stand up and declare unequivocally they will not vote for anyone who takes ANY money from corporations, lobbyists and PACs. Then, down the road, by having elections 100% financed out of public funds, we can build a democracy where our legislators might actually have some time to legislate. It is common knowledge, most federal office holders spend enormous amounts of time raising funds and worrying about winning the next election, instead of doing the job we voted them in office to do. Let's end this right now!

Second Commandment: THOU SHALT HONOR CHOICE AT THE POLLS
It's time to institute instant run-off, approval or range voting. This will allow minor party candidates to run at all levels of government without the understandable fear that a voter is throwing away her or his vote. Our current system has, as Ralph Nader has been saying all along, become a choice between Tweedle-dee and Tweedle-dum.  Without real choice, meaning a range that covers the entire spectrum of political opinion, democracy becomes a sham, and purely an exercise in futility.
Third Commandment:  THOU SHALT RESPECT THE COMMONS
Right off, we need to re-establish a commons. So much of what constitutes the foundation for a functioning society has been privatized — prisons, education, utilities, mail, roads, bridges. And it hasn't worked out well, has it? The nation's infrastructure is a shambles. There are some basic things we should all be able to have free and open access to, facilities and services which should not be at the mercy of the so-called free market: education, clean air and water, energy, health care, retirement security, the INTERNET, police, fire and ambulance services, nutrition and mental health counseling. This is not socialism.   It's having a country that works.
Fourth Commandment: THOU SHALT PUT MONEY CREATION AND THE CONTROL OF THE NATION'S CURRENCY BACK INTO THE PUBLIC DOMAIN
The control and issuance of currency must be returned to the federal government. The Federal Reserve is no more "federal" than Federal Express, and as a result America is now hostage to private banks and we rapidly becoming their serf-slaves. Either nationalize or abolish the Federal Reserve and return creation of our fiat currency to the people of America, regulated by a legitimate, functioning system of representative government.
Fifth Commandment: THOU SHALT LIVE BY RULE OF LAW
We have a two-tiered legal system, a gentle one for the privileged, a brutal one for the rest of us. The oligarchs do what they want unfettered by pesky legal restraints. Sometimes the same laws which should apply are used to oppress and incarcerate the rest of us. Same thing on an international level. Two tiers. The U.S. bullies the world, ignoring treaty obligations and international law, treating other countries as vassal states. But it uses the same legal instruments as a bludgeon, holding every other nation's feet to the fire with sanctions, UN resolutions, trade agreements — whatever — when it serves our interests, or more accurately, the interests of corporations and Wall Street banks, which are really setting the agenda. This gross hypocrisy is creating enemies everywhere. We are long overdue to again respect the law, apply it equally and fairly across the board, both at home and around the world.
Sixth Commandment: THOU SHALT REIN IN CAPITALISM
A nice breeze on a clear spring day — good! . . . A level 5 hurricane that destroys vast swaths of dwellings and kills countless people — bad! . . . Surfer and swimmer-friendly waves lapping up on a sandy beach — good! . . . A tsunami crushing whole towns with a 100 foot wall of terrifying force — bad! . . . Sunlight from hydrogen fusion nurturing our planet with gentle rays of light and warmth — good! . . . An inferno of hydrogen fusion raining down on cities across the world as mammoth nuclear bombs, destroying the entire human race — bad! We mostly tend to agree that capitalism provides a powerful engine to drive development and progress. But too much of it and societies are crushed, democracies destroyed, vast numbers of people are relegated to serf status. Other countries have strict regulation and state control to check the ravaging effects of unfettered capitalism. Now it's America's turn. Either we rein it in or we can kiss good-bye our once-great country as it descends into the dustbin of history. And if the capitalist monster cannot be tamed, then it's high time we eliminated it completely, replacing it with a system which incentivizes more noble and sustaining human traits than no-holds-barred competition, sociopathic greed, and ruthless exploitation.

Seventh Commandment: THOU SHALT MAKE CORPORATIONS SERVANTS OF THE GREATER GOOD
It will be tough but the whole bogus concept of corporate personhood must be expunged. Totally voided. It was put in place by devious methods and now must be rooted out. In general, it's way past time to drastically restrict the charters of corporations, such that the interests of people are balanced with the pursuit of profit. This is the way it used to be in the early days of our nation. Back then, corporations were set up for specific and usually public-spirited projects, assigned a very narrowly defined charter and a fixed duration. When whatever was supposed to get done got done, the corporation was dissolved. Maybe we don't have to return to such a limited implementation in our modern world, but we do have to require that corporations serve the common good. It is entirely legal to dictate that corporations act responsibly and take into account the needs of the community they serve, especially the communities where they reside. We have to elect individuals who are not in the pockets of the corporations and have them re-write the laws for doing the business of America. If the multinational behemoths don't like it, let them set up in China, Vietnam or Bangladesh. That's where they already have their factories anyway. Ultimately this will not harm the economy, it will create a society which is healthy and prosperous for everyone.

Eighth Commandment: THOU SHALT PROMOTE PEACE AND BE LOVED AGAIN
America must be taken off its war footing. The high-alert status both at home and around the world is nothing more than highly destructive fear-mongering. It is used to promote a belligerent self-sabotaging approach to international relations. It's the product of a grossly delusional neocon imperialistic agenda which Americans don't support — "exceptionalist" chest-beating which fills the coffers of the defense contractors but bankrupts the rest of us both financially and spiritually. We've meddled and bombed enough. It has accomplished nothing and created more problems and more enemies than we had before we decided that military force was the only way to deal with disagreements and crises in the world. It has also subjected the American people to unprecedented and unconstitutional levels of surveillance and a gross abrogation of our rights as citizens. Time to try peace and cooperation instead of threats and bullying.
Ninth Commandment: THOU SHALT RESPECT MOTHER EARTH
Enough silly arguing and tiptoeing around climate change. It's happening, it could destroy the human race. It will without a doubt reduce civilization to a shell of its former glory and sophistication. Let's get to work. Global warming and resource depletion represent the greatest threats to mankind in recorded history. Responsible use of resources and creation of sustainable sources of energy are not only necessary, but could be the greatest unifying force ever! Brainstorming and planning will create a monumental paradigm shift and the subsequent implementation of our collective ingenuity will create jobs and bring together behind a common purpose, a world which is torn by divisiveness, fear, suspicion, anger. Though time is quickly running out, the challenge of a planet in crisis doesn't have to end in total disaster. On the contrary, this could be a historic opportunity for a massive global initiative — one of renewal and fellowship.
Tenth Commandment: THOU SHALT LEVEL THE PLAYING FIELD
The rich and powerful have had a good run. The party is over. The wealthy should start paying back the country which gave birth to their monumental success. Inherited wealth does not give back to the community, the social and political environment that supported the accumulation of all that money. Tax it at 95% above $5 million. The heirs of the Koch brothers will just have to squeak by on their $5.2 billion. Capital gains? Capital gains is income. Tax it at the same rate as personal income. Speaking of which — time to return to the progressive tax rates of the 60s and 70s. You know them. The ones which resulted in a thriving economy! Massive tax reform across the board is in order, closing of all loopholes, penalizing off-shoring of profits, and the complete elimination of corporate welfare. Do I hear screaming of 'SOCIALISM!' out there? Get a life! Yes, this is redistribution of wealth. It's been going on for thousands of years. It's what makes a functioning society possible.
I confess, I'm not up to speed on my Bible studies. But I remember hearing at some point, there were originally twenty commandments. I guess our good guy, Moses, lost a tablet or two on his way down from the mountain.

I take this as meaning there's room on my list for even more. So let's come up with some ideas for Commandments 11-20. All reasonable and constructive ideas are welcome.
I'll bet there's a little Moses in everyone just hankering to bust out.
Come on. Go for it!
Let's make America serve all its citizens, not just the rich and powerful.